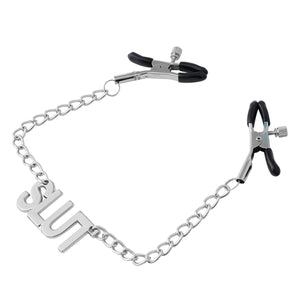 WYFF'R
Nipple Clamps: Slut
Sale price Price $12.95 Regular price
Just in case wearing plain ol' nipple clamps just aren't enough, make it known that you're ready, willing, and able!
Forget the hanky code, we wear our passions on our chest! Our brand new Skunky Punk Nipple Clamps are the best way to tell the crowd what you're looking for, while also keeping you pleasantly pinched. The rubber coated clamps are adjustable to ensure the right pressure for your pleasure.
Currently featuring Daddy, Slave, and Slut branding for a limited time, so if you're looking for something else, just drop us a line and let us know!
FREE GIFT
Our clamps are individually wrapped in a poly bag PLUS packaged inside one our our Premium Mesh Drawstring Bags, which makes this bundle a great deal.
Materials: Metal/Rubber
Size: 4.5" per chain length