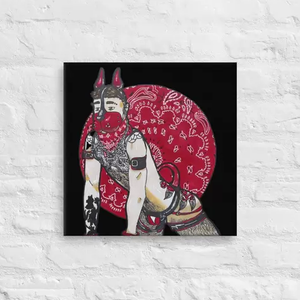 Skunky Punk
Alpha Pup Gunner
Sale price Price $35.00 Regular price
A perfect addition to every room's decor, this super sexy self-portrait was drawn by our very own Alpha Pup Gunner, who is a pillar in our community.
We couldn't be more proud of our Boy and honored to offer pupper's art to our fans. Available in two different dimensions, Gunner's canvas will instantly add a kinky element to any room's decore.
Be sure to find Alpha Pup Gunner online @alphapupgunner and share your love and support for this beautify boy!
You're bound to fall in love with Gunner's canvas wall art:

• Fade-resistant
• A thick 1.5″ deep
• Matte finish coating
• Mounting brackets included
• Hand-stretched over wood frame