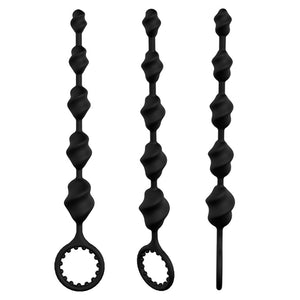 WYFF'R
Small Beads
Sale price Price $12.95 Regular price
Available in two sizes, our anal beads with Cock Ring are a great accessory for those who enjoy it both ways… at the same time!
Made out of medical grade silicone, the beads and rings simulate human touch inside and out. Our toys feature uniquely twisted beads that get larger the deeper you go, providing the ultimate in anal stimulation.
And on the deeper end, the cock ring ensures a hard-on to pump a partner full of pleasure, or doubles as a great handle for using the beads on yourself or others.
Our anal beads are made of soft, high-quality, orderless, tasteless, environmentally friendly silica gel

Materials: Silicone (soft)
Dimensions:  9" long x 0.5" - 1" wide